Item number: 969520401
BAKER GA 950 CCG L2 25B
Computer-controlled refrigerator/freezer/prover with individual program setting; Equipped with right hand hinged, reversible door with lock; Pedal door opener with overload protection; Optimised controls with 7-inch touch display; easily replaceable door gasket (no tools required); Tray size 60 x 80 cm.
Unit requires main water and a drainage. Should be installed with a dedicated electrical supply to an isolator and not a 3 pin plug.
έΑλ Height: 2315 mm
έΑλ Volume, gross: 949 ltr.
έΑλ Exterior/Interior: Stainless/Stainless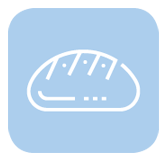 | | |
| --- | --- |
| Product series | Baker |
| Model name | BAKER GA 950 CCG L2 25B |
| Item number | 969520401 |
| Brand | Gram |
| Temperature range | -25/+40┬░C |
| Volume, gross (l) | 949 |
| Interior | Stainless |
| Dimensions W x D x H (mm) | 820 x 1065 x 2315 |
| Weight, packed (kg) | 186 |
| Refrigerant | R290 |
| GWP | 3 |
| Connection | 230V, 50 Hz |
| Connection load (Watt) | 1778 |
| Insulation (mm) | 70 mm (cyclopentane) |
| Refrigeration capacity at -25┬░C (Watt) | 882 |
| Climate class | 5 |
| GN έΑΥ Shelf size | Trayslides 60 x 80 cm / 60 x 40 cm |
| Door Type | Solid Door |
| Legs / Castors | H = 135/200 mm (L2) |
| Exterior | Stainless |
| Refrigerant (kg) | 0.15 |
| CO2 equivalent (kg) | 0.49 |
| Equipped with | Right hand hinged reversible door with lock, automatic door closing, pedal door opener, 25 pairs of supports included (60x 80 cm) |