Item number: 962840213
MARINE MIDI FG 82 CCH 4M
The Gram marine range is designed for the demanding conditions of marine kitchens. Marine features, such as sturdy adjustable fixed feet, stainless steel marine shelves and a dedicated positive locking handle are all designed for your demanding marine environment.
ECO MIDI 82 is suitable for the 2/1 GN wide GN system where two 1/1 GN pans can be placed side by side on each shelf.
The controls are concealed behind the top panel, protected against splashing water.
The modular rails can go directly in the dishwasher.
Design principle of "no broken surfaces" makes the cabinets easy to clean.
The distinctive aluminum profiles stretching from top to bottom on both sides of the cabinet impart strength and enhance appearance.
Security in heavy seas: All shelves are fitted with two guide pins on the underside. The shelves are then fixed to the shelf supports to ensure no movement during heavy seas. In calm seas the shelf can be turned easily allowing the shelves to be pulled out.
Sturdy marine shelves with 50 mm high front and rear edge.
Marine legs are adjustable from 130 to 200 mm. They can also be fixed to the floor for enhanced stability.
Dedicated positive locking handle.
Built-in or remote compressor. The units are also available as remote versions.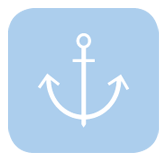 | | |
| --- | --- |
| Product series | Marine |
| Model name | MARINE MIDI FG 82 CCH 4M |
| Item number | 962840213 |
| Brand | Gram |
| Temperature range | -25/-5┬░C |
| Volume, gross (l) | 603 |
| Interior | Stainless |
| Dimensions W x D x H (mm) | 855 x 780 x 2115 (includes handle) |
| Weight, packed (kg) | 138 |
| Refrigerant | R452A |
| GWP | 2141 |
| Connection | 230V, 60 Hz |
| Connection load (Watt) | 493 |
| Energy Efficiency Class | Category not yet regulated |
| Insulation (mm) | 70 mm (cyclopentane) |
| Refrigeration capacity at -25┬░C (Watt) | 802 |
| GN έΑΥ Shelf size | 2/1 GN wide |
| Door Type | Glass door |
| Exterior | Stainless |
| Refrigerant (kg) | 0.33 |
| CO2 equivalent (kg) | 706.2 |
| Equipped with | Right hand hinged door with lock and dedicated positive locking handle (Marine handle), LED lighting, marine legs, 4 stainless marine shelves. |